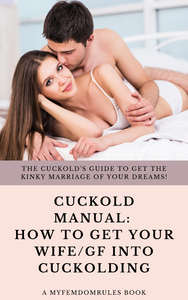 ✅ Turn Your Wife Into A Hotwife!
✅ Expert Advice & Tips To Get Her On Another Man's Cock!
✅ Step-By-Step Cuckold Training Guide To Have "The Talk" With Her!
Ready to take your relationship to the next level? 
The Cuckold Manual is the perfect book to get your wife/girlfriend to finally cuckold you.
I know, I know...bringing up cuckolding with your wife/girlfriend can be totally nerve racking. 
Your palms start to sweat and your mouth goes dry. You don't even know what to say at first...and then the words start coming out but they just seem to confuse her. 
"You want me to do what?" - your wife/girlfriend says. 
And now you're there without a plan and feeling down that she doesn't want to share your deepest sexual fantasies. 
Having the "cuckold conversation" with your wife takes A LOT of courage. And given that this is not a traditional relationship by any means, it will take some convincing to get your wife on board. 
But not to worry...the Cuckold Manual is here to guide you through this incredibly nerve racking process. 
The Cuckold Manual will teach you:
How to start the cuckold conversation with your partner
How to answer her objections to cuckolding and get over them
Fun activities you can do together to get her interested in cuckolding + chastity
30+ fun "Cuckold Dare" games specifically designed for beginners
Where to find safe and reliable bulls to play with
Cuckold date types
Advice to live a long and happy cuckold relationship
This book goes through the step-by-step process to have the cuckold conversation with your partner and how to convince her slowly over time to "come to the dark side" (pun intended). 
Don't go into the conversation blind without a strategy. The Cuckold Manual will be your guide to your ideal cuckold relationship!

This is the perfect cuckolding guidebook for beginners.
**This book includes a free sample of the Femdom Games book! That's right, you get 30 free Femdom Games from that book!
**Book is approximately 60 pages long.
**This is a digital book (PDF). The download link will be emailed to you directly after purchase via Fetchapp. 
Please ensure you enter the correct email at checkout.