25 Cuckold Games For Your Female Led Marriage
As I have written about before, a cuckold marriage is the best kind of marriage!
There's nothing more exciting than being a hotwife.
There's nothing more exciting than being a cuckold husband and watching another man fuck your wife.
Well that's why I wanted to create a list of fun cuckold games tailored specifically for the cuckold marriage.
These games are kinky, fun, and will blow your mind. Are you ready? :)
1. Skype sex
In general, I prefer the cuck be present when his wife is fucking another guy.
However, it's not always possible...especially when he travels for work.
Does your husband also travel a lot for work?
Well, invite your lover over for a fun night! Maybe get some pizza or Chinese take out.
When the big moment comes, turn on skype on your computer and let your husband watch in as you two have sex!
It'll be the best business trip he's ever been on!
2. Creampie panties
Like I said, sometimes your husband can't always be around to watch another man fuck you.
That's okay because there's another way for him to experience that magic!
Nope, I'm not talking about a homemade sex video (although that's a good idea!)
I'm talking about something a lot more kinkier.
Bring your husband home some creampie panties. After your bull cums in you, put on your panties before it drips out.
Then, come home and have your cuck husband clean it all up! That is one humiliating way to start the morning!
3. Pussy time
This is one game I love to play with my husband.
After you go out on a date with a potential lover, have your husband eat you out.
Let him know what went on during the date in very vivid detail.
Let him know how you felt. Describe how horny you were and what you wanted to do to your lover.
Tell your husband what you're going to do to him next time you meet!
P.S. extra points if you lock him in chastity while doing this!
4. Ice cube of freedom 
Alright, even I have to admit that this one is KINKY AS HELL!
Ready for this one? Okay, here it is!
Lock your husband in chastity for a few weeks. Then, have your bull cum on the key and put it in the freezer in an ice cube tray.
When it completely freezes, have your husband unfreeze it with his tongue to earn his freedom!
God, this one just makes me so horny! :)
5. Toe sucking
Does your husband have a big foot fetish? Mine does...well for female feet.
That's why I always order him to suck on my toes while I'm having sex with another guy.
However, sometimes I make him suck on my lover's toes as well.
He's not into guys' feet normally, but he loves doing it because it's very submissive. Try it out and see what happens :)
6. Homemade sex video
This one is really kinky. I love homemade and amateur sex videos. Maybe that's why this one appeals to me so much!
Have your husband record a hot sex romp with your bull.
Then, the two of you can watch it in the future and have some fun!
Maybe have your husband cum in chastity while watching the video. Tell him how good it felt to be fucked by a real man!
7. Dog shock collar 
This is a really funny game to play. Put a dog shock collar on your cuckold husband.
I typically like to place it on his balls, but his arm and leg are also a good alternative.
Next time your bull is over for sex, shock your husband's balls while he's fucking you.
Extra points if you shock him while you're cumming!
Your husband's screams will fuel an even more intense orgasm!
8. Date night
I'm a big fan of cuckold date nights.
There's nothing more fun than humiliating your man in public while people are watching.
He will serve as your chauffeur and human ATM paying for the date.
Next time you go out, put the Lovense Hush in your husband's ass.
It's basically a remote controlled vibrating butt plug.
You can control the vibrations through your phone.
Light him up with this bad boy while you're kissing and having fun with your lover at the restaurant!
9. Orgasm counter!
How many times does your bull give you an orgasm? I bet it's a lot!
There are a lot of ways to use that orgasm count to torment your husband.
After all, that's the job of a hotwife, right? :)
Here are a few fun cuckold game ideas:
*For every orgasm your bull gives you, slap your husband's balls five times.
*For every orgasm your bull gives you, your husband is locked one day in chastity!
*Your husband has to make you cum more than your bull did with his tongue. If he doesn't it's another week in chastity!
10. Cleanup duty
Licking up a creampie is one of the most intimate things you can do in a cuckold marriage.
Have your bull make a big mess inside you. T
hen have your bull clean it all up. Make sure he gets every single last drop!
There's nothing sexier than cleaning out a superior man's cum. He will love you for this!
11. The cuckold shopper
One way to humiliate your husband is to have him buy some gifts for your bull.
This could be a nice watch, a new sexy shirt, or a pair of shoes.
The dollar amount isn't what is important.
What is important is his servitude and doing his best to serve a superior man.
Have him kneel down and present the gift to you both. Make sure he wraps it up nicely too!
12. Car service
This is a great way to tease your husband while also making him useful.
Invite your bull over for some hot afternoon sex.
Instead of allowing hubby to watch, send him to wash and clean your bull's car.
What could be more humiliating than cleaning the car of the man who is fucking your wife? :)
To be extra humiliating, send him to top off the gas too!
13. A night in
Tired of going out and spending a night on the town?
Stay in and cook instead! Well...you're not the one doing the cooking.
Dress your man up in a sexy french maid sissy outfit and have him cook a full course for you and your bull.
If he does a good job, he might be able to watch him fuck you!
14. Make him watch
There are a ton of fun cuckold sex positions for your cuck to watch you and your bull make love to each other
Pick one of them and watch him get hard in his chastity cage!
15. A night out!
A night in is good once in a while. However, a night out can be even more fun!
I'm a big fan of public humiliation and what's better than having your cuckold husband take you out!
He'll be a good boy and chauffeur you and your bull around town. No more Uber; you have a sober driver on hand!
Be sure to show that extra display of public affection (PDA) to tease that cuckold of yours.
16. Run chores & errands
Tired of running around town doing chores? I don't blame you!
Next time you're tired of doing chores and errands, send your cuckold husband to do it.
Meanwhile you'll be busy with a real man.
Send him naughty texts, pictures, and videos while he's out running those errands. It'll be a good laugh.
P.S. Be sure to lock him in chastity before sending him out!
17. Get you ready for a real man
Just because your husband is in chastity doesn't mean he can't get you ready for sex with a real man.
He has a tongue for a reason!
Lock him in chastity and have him get you nice and wet before a real man fucks you.
Your husband must know his place in this marriage. He's just there for your amusement!
18. Suck on your bull's cock
Sissy training and forced bi is another fetish I like to explore with my hubby.
It's so thrilling to make him suck on another man's cock
Have your husband kneel down and suck a real man's cock.
If he doesn't know how to do it, teach him!
Buy a really big dildo...like this one and make him train on it.
Your husband should learn to be a good cock sucking sissy!
19. Prostate orgasm
I firmly believe that all cuckolds should be locked in chastity. It makes them easier to control and more obedient.
However, you still need to let him cum once in a while.
That's where the prostate orgasm comes in! You can give him an orgasm in chastity without actually letting him out!
Give your cuck a prostate orgasm with the Lovense Edge.
It's a really powerful prostate vibrator that will have him cumming in chastity like a little slut.
This bad boy is capable of remote control and is really, really powerful.
Jam it in there and make milk him like a cow!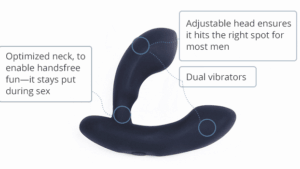 20. Watch and play
Let your husband watch you and your bull have sex and let him get involved.
Have hubby eat your ass while your bull fucks you.
Or you can have him lick your pussy while your bull is fucking you.
As you can see...there are a ton of cuckold games fit for the cuckold marriage. These games are very kinky and MUCH better than ordinary sex. 
So, what are you waiting for? Get started tonight and start having fun!
21. Husband is not allowed to fuck you
This is a really fun one. Some cuckold marriages are a 24/7 lifestyle where the husband is not allowed to have sex with his wife anymore.
Others, have time periods where the husband isn't allowed to have sex.
He might even be in chastity!
In my opinion, the best rule is the husband has limited sexual intercourse with his wife.
This turns the bedroom into a servitude of sorts.
22. He must be locked in chastity
I love chastity! It's just so much fun! It's so fun to tease and deny a man in chastity.
Chastity is the ultimate form of servitude.
You never had great sex if you haven't locked up your husband in chastity while fucking another man.
Trust me, your pussy will be dripping wet!
There are so many chastity games you can play with your cuckold husband.
23. Husband will get a "cum calendar"
A "cum calendar" is a really fun way to control your cuckold husband's cock.
Mark a calendar a few times a month where he will get to cum (in a manner of his choosing).
And if he misbehaves, be sure to adjust the calendar to push out his next "cum date!"
24. Nice vacations
This only works with long-term lovers/bulls. However, if you do have one, taking a nice vacation together is always a lot of fun.
I'm a big fan of going to tropical vacations like the Caribbean or even South East Asia.
Vacations are a nice way to get away and really get down and dirty with the cuckoldry fetish.
Plus, it's also a nice way to meet other potential bulls or a one night stand!
25. Proper etiquette
A cuckold husband should be obedient and polite at all times. Part of this requires addressing you and your bull correctly!
Here are some fun titles to address you by:
Madam
Ma'am
Goddess
Queen
Mistress
And here are some fun ways to address your bull by:
Sir
Master
King
Your majesty
I find the latter category to be a lot more humiliating hehe :)