10 Cruel Post Orgasm Torture Games For Your Cuckold Slave
Interested in post orgasm torture in your marriage?
Well, I have some fun games for you then!
So...what is post orgasm torture? Well, it's really just overstimulating a man's penis after he has ejaculated.
Simple as that.
After a man has come, his dick (particularly the glans) are super sensitive. So it is easy to overstimulate him.
Now if you are trying some of these ideas, I would highly recommend tying him down (not only for the kinky aspect), but to ensure he doesn't flay around too much and stop you while you are "torturing" him.
Here are 10 fun post orgasm torture games to try!
1. Palm him
This method is the simplest and most effective way to overstimulate his cock.
After he has cum, grab his cock at the base and hold it straight up.
Then, take a handful of his own cum and spread it nicely around his glans.
Finally, rub your hand all around his glans fast in a circle - just imagine you're polishing an apple.
What you want to do is create long and fast circular strokes with your palm.
If you want to be extra cruel and add even more stimulation, you can use your fingers to grab at the head/side of his cock when you are rotating your wrist.
2. Pantyhose pulling
This is a really fun and evil way to overstimulate his cock.
For this one, you will want to tie him down to the bed (you'll see why if you decide to try this!).
What you want to do is place a pair of pantyhose over his cock. Insert the hose all the way over until his cock is resting where your toes would be.
Then, grab a piece of the pantyhose and then pull it back, rubbing the fabric of the hose around his glans.
This will drive him CRAZY!
Pantyhose pulling is already a super sensitive sensation BEFORE he has orgasmed.
But when you do it after, he will feel like all the nerves in his cock are working at once!
P.S. this is a really fun punishment when he cums without permission!
3. Milk him again
When you try the palming technique I just mentioned one of the drawbacks is that he will eventually become soft from the overstimulation.
That's why another fun ideas is to simply milk him again.
You can do this with your hands or your mouth. It doesn't matter. Just milk him again!
Challenge yourself and see how fast you can make him cum again.
Given the overstimulation on his manhood, this orgasm shouldn't feel too good...which is the point!
4. Attach a vibrator to his dick
One way to REALLY torture your man after an orgasm is to use some awesome sex toys to continue torturing his dick.
Here's what you're going to want to do....
Tie him down and then attach a vibrator to his dick, particularly near his head (tie it on with some string or a strap).
Then, turn it on while you watch some TV or go out shopping!
Another thing you can do to continue stimulating his manhood in this manner is putting a nice male masturbator on him.
Something like the Lovense Max is perfect for this because you can control it remotely with your phone.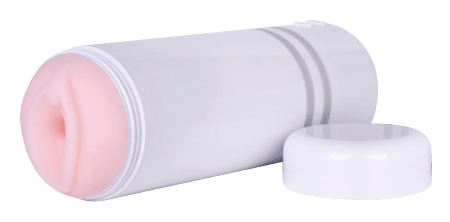 5. Make him eat it
Okay...I guess this really doesn't count as "overstimulating" his manhood, but I think it still counts as "torture"!
After he has cum, make sure to scoop it all up (use a spoon if you have to) and then feed him is own cum!
What could be more humiliating for a lowly cuck than eating his own cum!
I think this fun little game should only be reserved for when he has been bad or when he has cum without permission.
6. Play with his slit
I think this is a really fun post orgasm torture game to play...in fact it's one of my favorites!
Here's what you're going to want to do...
Hold his dick straight up and then wrap your lips around him. Create an air tight suction like a vacuum cleaner and then circle your tongue around the edges of his glans.
This will drive him INSANE!
And to take things to the next level, use your tongue and play around with his peehole.
This little spot on his dick is incredibly sensitive post orgasm, so be sure to use that to torture him!
7. Block his cumshot
Okay, this is really more like a "ruined orgasm", but I still think it should be included on this list.
What you want to do is block his cumshot with the palm of your hand.
Just block the peehole and watch the cum dripple out slowly after that.
Then, you can continue onto the palming technique I discussed earlier!
8. Slap his dick
Do you want to experiment around with some pain? Then this one is just for you!
Grab his dick and hold it up straight, and then slap his dick with your palm.
Start off soft and then go harder as you establish his pain threshold.
Alternate between pain and pleasure to drive him crazy!
9. Tickle him
Is your man ticklish?
Then after his orgasm be sure to give his cock a tickle with your fingers and watch him squirm underneath you!
And if he is really ticklish, be sure to go for the kill and tickle around his sides or his feet.
10. Pound his balls
The final one is a really fun one if you are into pain.
What you want to do is grab his balls and squeeze them softly to tender them up.
And then you're going to punch or slap them softly while stimulating his shaft.
Be careful though because his legs may flay around while you stimulate him like this!
Post Orgasm Torture Games - Final Thoughts!
Overall, post orgasm torture games can be a really fun addition to the bedroom.
Let's face it...it's a lot more fun and interesting than boring old vanilla sex.
Try some of these fun games and let me know how they went!
And if you have any other ideas, please let me know in the comments or shoot me an email!